Traffic Violation Bail Bonds in West Palm Beach, Miami-Dade, Broward & Monroe County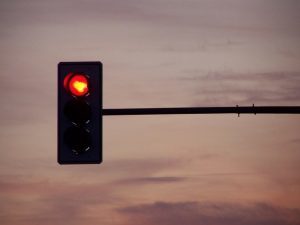 Do you need a bail bond for traffic violations arrest in West Palm Beach, Broward, Miami-Dade and Monroe, FL? Call Atlantic Bail Bonding for fast, professional service any time of day or night! For traffic violation bail bonds, call 561-659-0525.
What Is A Criminal Traffic Violation?
You may have heard the terms moving violation and criminal traffic violation before and wondered what the difference is. In Florida, there are a few different ways you can get arrested for a traffic violation.
For many minor traffic incidents, such as speeding or running a stop sign, an officer may issue a traffic citation for the infraction. When this happens, points are added to your license; reach a certain number of points and your license gets suspended. For example, passing a stopped school bus will get you four points. Accumulate 12 points in 12 months and your license gets suspended for 30 days. Most points stay on your license for three to five years, but points for more serious infractions may last up to 10 years.
When you get pulled over for a criminal traffic violation, you may get arrested depending on your criminal history and current situation. Some examples of traffic violations include:
Driving While License Suspended
Expired Registration
Habitual Traffic Offender
Hit and Run
Invalid Driver's License
Reckless Driving
Street Racing
And More
These more serious offenses are classified as misdemeanors or felonies. If you do not get arrested, you must attend your court date, found at the bottom of your ticket. Missing your court date could result in a warrant issued for your arrest. If you get pulled over for another traffic infraction after this, you will get arrested.
Call Us For Help!
If you've been arrested after a traffic violation and need bail assistance, call Atlantic Bail Bonding. Our experienced bail agents handle all types of bail bonds in eastern, central, and southeastern Florida. Whether you have been charged with a minor misdemeanor or a major felony, we can help get you out of jail quickly. For traffic violation bail bonds in West Palm Beach, Broward, Miami-Dade and Monroe, FL, call 1-561-659-0525.