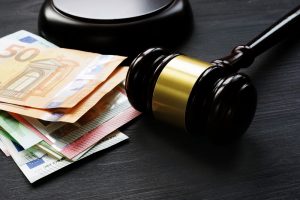 If you get a call from jail and a friend or family member has been arrested, you may be asked to cosign for a bail bond. If you want to help your loved one get out of jail, you can do so. But cosigning a bail bond has long-term responsibilities and financial obligations. Make sure you know what you're getting into before you sign on the dotted line.
What Cosigning a Bail Bond Means
When you cosign a bail bond, your name is added to the jailed friend's name on a legal document. This document says the accused will be released from jail until the charges can be decided on by a judge. By cosigning a bail bond, you become financially obligated to pay the full amount of the bond if the accused individual does not appear in a court of law.
Cosigning a bail bond often involves putting up property, such as a vehicle, a home, or cash, up as collateral. The logic in requiring collateral is to ensure the bail bondsman is provided with the money they pledged to the court through a surety bond. If the accused party flees and cannot be located then taken to court within a specific period of time, the cosigner is required to pay the full bond or surrender property pledged to the company that provided the bail bond.
Cosigners Have Rights
Contrary to popular opinion, cosigners have rights. If it is believed the accused party will not appear in a court of law, the cosigner can reach out to the bondsman and request that the bond be withdrawn. If the bondsman agrees, they will have the accused party picked up and brought back to jail.
Furthermore, the cosigner is also empowered to request specific stipulations prior to cosigning. As an example, it can be required that the accused party attend a program for drug treatment. Other cosigners request that the accused party undergo a mental health evaluation.
What If the Accused Party Flees?
If the accused party flees, or if they do not go to court, the cosigner is not left powerless. Rather, this individual can reach out to the bail bond company to notify them of the accused party's location so they can be returned to jail.
The Requirements for Cosigning
Not everyone can cosign a bail bond. The cosigner must show proof of:
United States citizenship
residency
sufficient credit
stable employment
Your particular area may have more requirements, but you'll need to show that you can and will pay for the bond.
Atlantic Bail Bonding is on Your Side
If you or a loved one has been arrested, you need the best bail bond service around. We are that service. Atlantic Bail Bonding has served Broward, Miami-Dade, West Palm Beach, and Monroe, FL counties for over 30 years. We are experts in Florida criminal laws. Our team works quickly and genuinely cares about our clients. Reach out to us, and one of our licensed agents will expedite your release from jail. Contact us online or by phone at 561-659-0525.